Anyone who thinks that modern auto shows are dying a slow death—particularly after this year's downright boring Detroit auto show—needs to fly themselves to Geneva, Switzerland, at take in that city's international motor show. The 2019 Geneva show was huge, with an alluring mixture of new-car debuts, fanciful concept cars, and more low-volume supercars than you can shake financial crimes at.
Okay, so travel to Switzerland and accommodations in a city best known for having a lake and being a destination for banking and watch purchases isn't cheap, nor is it likely to be quick or easy. That's why we went, and while in Geneva not swimming in the lake, banking, or purchasing watches, we sorted through the auto show's myriad vehicles to find the ten that matter most. Swipe through for the list, and be sure to see everything else from the show in our full-throated coverage.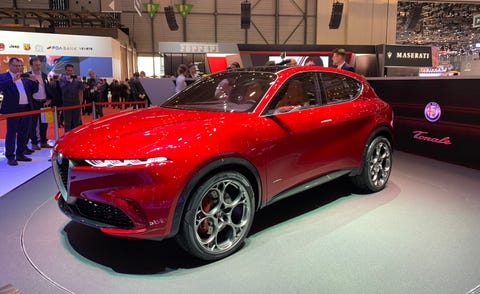 Pronounced "toe-nah-lay," this Tonale concept is Alfa Romeo's vision for a new, smaller crossover destined to join its lineup beneath the compact Stelvio. You can tell from the Tonale—for the last time, it's not "toenail"—that it is front-wheel drive–based, not rear-drive like the Stelvio or the Giulia sedan. Besides entering Alfa Romeo into the lucrative market segment that also includes subcompact luxury offerings such as the BMW X1, Mercedes-Benz GLA-class, and Lexus UX, the Tonale promises to offer a plug-in hybrid powertrain when it eventually goes on sale. That makes it Alfa Romeo's first-ever hybrid model.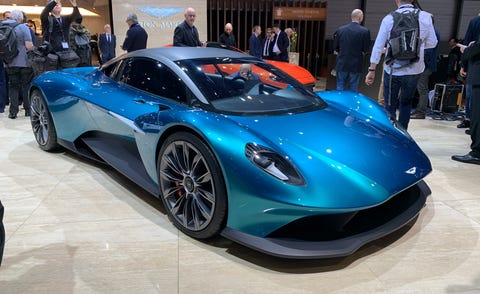 Among a flotilla of new supercars and supercar-like show cars Aston Martin debuted in Geneva, the Vanquish Vision concept rose above the rest. First off, this will be the tamest of the coming flood of mid-engine Aston Martins, which also includes the 003 and the Valkyrie, yet will still have a new V-6 engine and hybridization like those cars. Its focus on road performance, rather than all-out track acumen, means that its body is free from most of the wings, slats, slits, and other distractions on its more powerful siblings and thus is somewhat prettier. Either way, get ready, because Aston is taking the supercar fight to McLaren and Ferrari's doorsteps.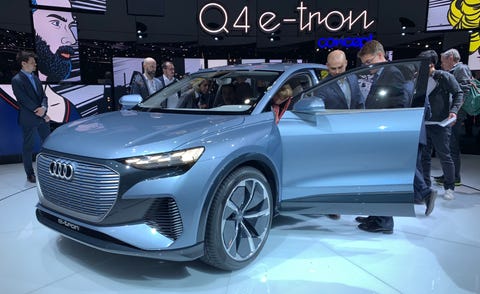 Audi's electric lineup continues to expand, at least if you count the volume of concept cars the automaker has unveiled in recent years. So far, only the e-tron has made it to market, but this smaller Q4 e-tron won't be far behind. Promised for 2021, the eventual production Q4 e-tron likely will closely resemble this concept. It also is said to arrive with around 280 miles of driving range per charge from its 82-kWh battery pack, one drive motor per axle (providing all-wheel drive), and a bullseye on its tailgate from Tesla's upcoming Model Y compact electric crossover.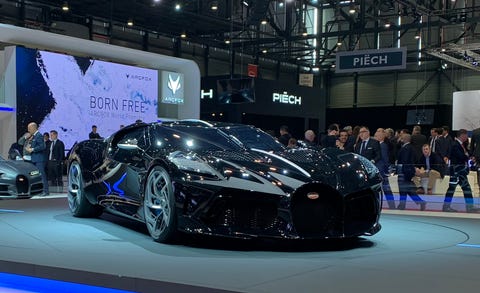 Lucky for you, the opportunity, such as it is, to purchase the most expensive new car for sale in the world today has passed you by. Bugatti has already sold the $12.5 million, Divo-based La Voiture Noire to the customer who special ordered the all-black hypercar. For the extra $9 million and change this one-off creation costs relative to a run-of-the-mill Chiron, Bugatti's special buyer receives a rolling homage to the 1930s-era Type 57SC Atlantic owned by Jean Bugatti himself and said to be lost before the onset of World War II. The frenchy name literally translates to "the black car," and black this Divo creation is, with a dark-finish carbon-fiber-weave body treatment, stripped-down ornamentation, no rear wing, and several body openings and vents closed up. Oh, and it has six exhaust outlets lined up in a row poking out from its rear.
By: Alexander Stoklosa, March 5, 2019
To read more about the Geneva Autoshow, visit: https://www.caranddriver.com/features/g26665435/2019-geneva-auto-show-highlights/?slide=4
Source: https://www.caranddriver.com/