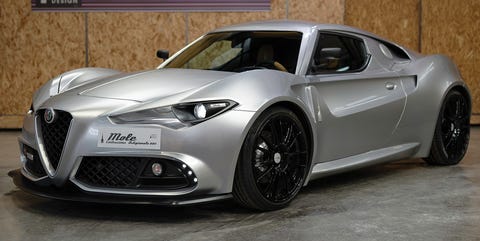 If for some reason the normal Alfa Romeo 4C doesn't look cool enough to you, don't worry—we might have something better. This is a one-off custom-bodied 4C, and it's coming up for auction next month at RM Sotheby's Lake Como auction. It has a striking look with an aggressive take on Alfa design language, and you can own it.
This car, dubbed the Mole Handicraft Construction 001, was built in 2018 after former FCA CEO Sergio Marchionne revealed there would not be a successor to the current Alfa Romeo 4C. The donor car was a 4C coupe that had previously driven 40,000 kilometers (around 25,000 miles). The coachwork was penned by Umberto Palermo of Up Design, and adds some angry muscularity to Alfa's mid-engine sports car. The headlights are similar to the items used on the Giulia sedan, while the rear reminds me of something from Zagato. The wheels have been replaced with multi-spoke aftermarket units, and the number of exhaust pipe exits has doubled from two to four.
Underneath, the car is still very much a 4C. A 237-horsepower 1.75-liter turbocharged inline-four powers the rear wheels via a six-speed dual-clutch transmission. The interior has been fit with two-tone premium leather, and looks great.
The car will come up for auction at RM Sotheby's Villa Erba event on May 25th in Lake Como, Italy. There's no sale estimate listed, but considering this car is the only one of its kind, we're betting it'll be a bit more expensive than a normal 4C.
By: Brian Silvestro, April 29, 2019
For more cars, visit: https://www.roadandtrack.com/car-culture/a27309775/one-off-custom-alfa-romeo-4c-for-sale/
Source: https://www.roadandtrack.com/