Porsche Cracks Open Nostalgic Coke Livery for 911 RSR's Final Race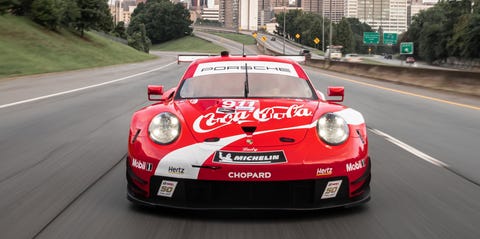 Two Porsche 911 RSRs will contest the 22nd Motul Petit Le Mans 10-hour race in October at Road Atlanta, both wearing classic red and white Coca-Cola livery. The Coke look will be right at home in Atlanta, headquarters of both Porsche Cars North America and of the soda-pop brand, and it also celebrates the Bob Akin team, which competed in the 1980s—and won the 12 Hours of Sebring in 1986—in a similar paint scheme. The Coke look (and the car) was so popular that a restored Akin 1987 Porsche 962 sold on the Bring a Trailer auction site for $960,000 in August.
Petit Le Mans will be the final outing for this version of the 911 RSR before a next-generation race car makes its debut, according to Porsche. At Road Atlanta, No. 911 will be driven by Patrick Pilet, Nick Tandy, and Frédéric Makowiecki. The other car, wearing No. 912, will be piloted by current GTLM points leader Earl Bamber, Laurens Vanthoor, and Mathieu Jaminet. Qualifying begins on the afternoon of Saturday, October 10, and the 10-hour IMSA WeatherTech Championship finale starts on Saturday, October 12, at 11:55 a.m. ET.
In the video below, as the No. 911 RSR pulls in for a quick drink, each body panel is replaced with one from the new livery before making its way through the city to Road Atlanta.