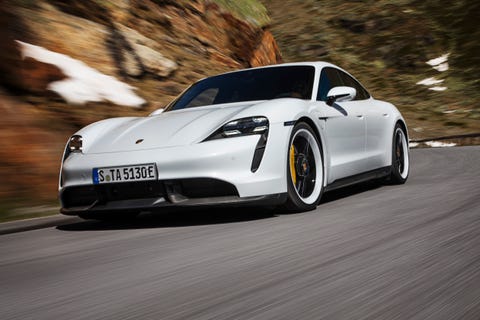 Porsche's first production electric car is a big deal. Speaking to the engineers who created it, you get the sense that the Taycan isn't just another model in the automaker's lineup. It's a paradigm shift, a clean-sheet engineering project. When Porsche does a clean-sheet project, it tends to end up pretty great—think of the 918, revolutionary upon its debut and still magnificent today.
But the Taycan is intended as a mass-produced electric sedan, a far cry from the hypercar exclusivity of the 918. And an all-electric car presents challenges that Porsche has never had to face before. The automaker invited journalists to its Atlanta headquarters for a deep dive into the production-spec EV. Here's what we learned.
At launch, Porsche will offer two versions of the Taycan—the Turbo and Turbo S. (Yes, Porsche insists on carrying over this well-established model name on a vehicle that will never be equipped with turbochargers.) The Turbo will carry an MSRP of $153,510 at launch, while the Turbo S will cost $187,610. Both of those numbers are minus destination charge.
Both the Turbo and Turbo S will have two electric motors, one powering each axle. Porsche designed the permanent magnet synchronous machine (PMSM) motors in house—they're more expensive to develop compared to traditional electric motors, but they're easier to package, and more importantly, easier to cool. That's critical because Porsche wants to provide sustained, repeatable performance with this car.
Both models offer 616 hp in normal driving. Activate Launch Control, and the Taycan Turbo / Turbo S will give you 2.5 seconds of "Overboost," increasing output to 670 hp in the Turbo and 750 hp in the Turbo S. The results are serious: Porsche says the Turbo will do 0-60 mph in 3.0 seconds, 0-124 mph in 10.6 seconds, and the quarter-mile in 11.1 seconds, while the Turbo S will do 0-60 in 2.6 seconds, 0-124 mph in 9.8 seconds, and a 10.8-second quarter-mile.
Porsche fitted the Taycan's rear motor with a two-speed gearbox. In Sport or Sport+ modes, the rear drive system starts out in low gear for improved acceleration; in other modes, it stays in high gear all the time. The rear motor also has an electronically controlled limited-slip differential. The front motor transmits power through a single-speed gearbox.
Both the Turbo and Turbo S get a 600-amp inverter for the rear motor, but while the Turbo uses a 300-amp inverter for the front motor, the S gets another 600-amp unit. That's the biggest difference between the Turbo and Turbo S, though the S also gets 21-inch wheels, rear-wheel steering and carbon-ceramic brakes, all standard equipment. An engineer told R&T that the larger front inverter only plays a role in off-the-line acceleration—dynamically, the Turbo and Turbo S are essentially the same otherwise.
All of these drivetrain components were designed in-house by Porsche, and the motors, inverters, and two-speed gearbox will be built in the company's hometown of Zuffenhausen. While Porsche won't confirm it just yet, we expect the entry-level Taycan will feature a single electric motor powering the rear axle; a later Taycan 4S with twin motors seems likely as well, albeit with lower power output than the Turbo and Turbo S. In "Range" mode, all-wheel drive Taycan models will default to front-wheel drive, a Porsche first, to minimize energy consumption.
Just as important as the motors in an EV are the batteries that power them. The Taycan Turbo and Turbo S get a 93.4-kWh battery pack attached to the steel floorpan of the car. All Taycans will use an 800-volt electrical architecture that Porsche says will allow for very fast charging times.
At launch, Porsche says the Taycan will be able to handle 270 kW of input current, increasing to as much as 500 kW in the future. And Porsche promises a new 800-volt "Turbo" charging system will replenish a Taycan's battery from 5 percent to 80 percent charge in just under 23 minutes. (After the battery reaches 80 percent, charging speed decreases notably, so Porsche says it's best to just charge to 80 and be on your way.) These 800-volt chargers will eventually be conveniently located at Porsche dealerships and Electrify America charging stations.
While the EPA hasn't rated the Taycan's driving range just yet, Europe's WLTP numbers indicate the Taycan Turbo should be able to cover up to 280 miles on a full charge, while in the Turbo S, that figure shrinks to 256 miles. Blame the S model's larger 21-inch wheels for that discrepancy, and remember that WLTP testing often returns higher range numbers than EPA measurement. Those numbers are considerably smaller than a comparable Tesla: the EPA estimates range of 345 miles for the Tesla Model S Performance, rising to 370 miles for the Long Range.