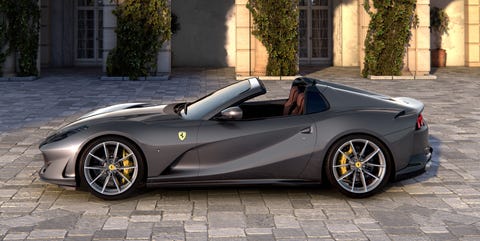 Ferrari unveiled the 812 GTS, its latest V-12 spider, in Maranello today. The car is based on the 812 Superfast, with which it shares its exterior and interior dimensions and its 6.5-liter, 789-hp V-12 engine. It features a power-folding hard-top and a rear end that was completely redesigned to accommodate the convertible top. Ferrari claims it is the most powerful production spider in the world.
Like in the 812 Superfast, the V-12 engine has an 8900-rpm rev limit, and makes its peak 789 hp at 8500 rpm. Torque hits its 530 lb-ft peak at 7000 rpm, with 80 percent of torque available at 3500 rpm. The seven-speed dual-clutch automatic transmission has been programmed for faster shifts, and now has shorter gear ratios to improve the 812's response to throttle inputs. Ferrari says the GTS will reach 62 mph in less than three seconds and 124 mph in 8.3 seconds. The car will have a top speed of 211 mph.
The V-12 had to employ some tricks to comply with emissions regulations. Its high-pressure injection system reduces the number of particles that are emitted before the catalytic converter warms up. There's also a new gasoline particulate filter, and the GTS uses a stop-start system to further mitigate the thirsty V-12's demands.
The 812 GTS's rear end features two buttresses and a tonneau cover. The mechanism that moves the power-folding hardtop lives under the buttresses, and when the top is stowed its panels rest under the tonneau cover. The top can fold or unfold in 14 seconds and will operate at speeds of up to 28 mph. An air duct that runs through the rear wheel arches in the coupe variant was lost in the redesign, so the GTS's rear diffuser has an extra flap to make up the difference.
The 812 GTS is also the scion of a rich lineage for Ferrari. The company built its first front-engined V-12 coupe in 1948. That car, the 166 MM won both the Mille Miglia and 24 Hours of LeMans endurance races in 1949. The last time a series-production front-engine V-12 Spider rolled out of Maranello was the GTS4 in 1969, also called the Daytona Spider in honor of Ferrari's 1967 sweep at the 24 Hours of Daytona (the company counts more recent front-engine V-12 cars such as the 575 Superamerica and F60 America as limited-edition models).
Ferrari hasn't named an on-sale date or a price for the 812 GTS, but we'd bet it'll be a bit higher than the coupe version, which rings in at a healthy $335,275.
By: Annie White, September 9, 2019
For more car, visit: https://www.caranddriver.com/news/a28955195/ferrari-812-gts-photos-info/
Source: https://www.caranddriver.com/