Porsche Taycan EV Adds Cheaper 4S Variant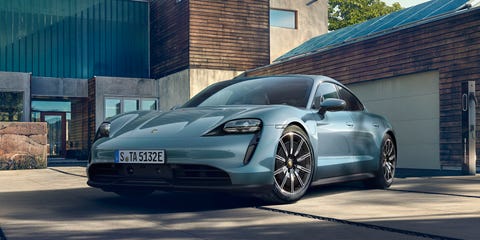 Porsche is releasing variants of its new Taycan EV from the top down, starting with the most powerful Turbo and Turbo S models and now detailing the Taycan 4S. It has less power, a lower price, and the option of a smaller battery pack that will provide less driving range.
The base Taycan 4S starts at $105,150, nearly $50,000 less than the Taycan Turbo. As such, it has a smaller, 79.2-kWh battery pack and its pair of electric motors make "only" 522 horsepower compared to the Turbo's 670 hp and the Turbo S's 750 hp. Porsche hasn't released EPA range estimates for any Taycan models yet, but expect the 4S with this base battery pack to be a fair bit lower than the estimates for the Turbo and Turbo S, which we predict will range from 225 up to 270 miles on a charge.
Optional for an extra $6580 is the Performance Battery Plus that's the same 93.4-kWh pack found in the Taycan Turbo and Turbo S. This battery should enable the Taycan 4S to provide around 260 or 270 miles of range, possibly more than the Turbo and Turbo S due to its smaller 19-inch wheels and tires. Equipped with this larger battery pack, the 4S also makes a bit of extra horsepower, up to 563 hp. Porsche says that regardless of battery, the Taycan 4S will go from zero to 60 mph in 3.7 seconds and reach a top speed of 155 miles.
Along with the smaller wheels and tires, the 4S models also have a different front fascia compared with the Turbo models. Standard features include an air suspension, keyless entry and pushbutton start, ambient interior lighting, eight-way power front seats, and dynamic LED headlights.
The Taycan 4S is available to order now, and U.S. deliveries will start in spring 2020.
By: joey Capparella, October 14, 2019
For more cars, visit: https://www.caranddriver.com/news/a29458507/porsche-taycan-4s-photos-info/
Source: https://www.caranddriver.com/