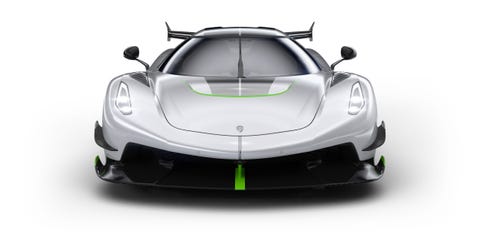 Koenigsegg will build 125 Jeskos in two variants. The track-focused version you see here is designed to produce more than 3000 lbs of downforce with Koenigsegg's revolutionary Triplex suspension at front and rear. The low-drag Jesko version is a more road-friendly machine with a standard front suspension that leaves enough room in the front trunk to stow the removable targa roof.
And good news: No matter which spec you choose, the Jesko will be homologated worldwide—unlike some other extreme performance cars that aren't road legal in certain nations.
We've talked about how special the Koenigsegg V-8 is before. For its last appearance before Koenigsegg goes electrified and camless across the board, the team has really gone the extra mile. You get 1280 horsepower on pump gas, or 1600 hp on E85. That's partly because the Jesko's V8 has a flat-plane crank that weighs just 27.5 lbs, milled from a solid steel billet in southern Sweden. To reduce thevibration you'd get from a flat-plane crank engine while as it approaches 8500rpm, Koenigsegg's engine architect, Dr. Thomas Johansson, came up with new super-light connecting rods that are made from an ultra-strong Swedish steel alloy. Including the bolts, they weigh 19 pounds, which makes them exactly as light as the titanium rods of the Regera engine, but even stronger. Then, there's the pistons.
They weigh 0.63 pounds each, with a ceramic-coated curved face that happens to be the strongest in production. As a result, they can take a crazy amount of pressure while allowing the long-stroke V8 to rev to 8500 rpm.
The Jesko may not use Koenigsegg's camless Freevalve heads, but the ones it has are cast by Formula One suppliers Grainger and Worrall, with an extra "tumble" valve on the intake side to increase turbulence in the air-fuel mix.
Koenigsegg's even-larger turbos would mean even more lag, but the Jesko's engine features a clever system that uses pressurized air to spool up the compressor wheels and heat up the catalytic converters more quickly on cold start. In principle, the system is similar to one used on Volvo's PowerPulse diesel, but Koenigsegg came up with a patent-pending turbo housing design, with pressurized air stored in a carbon fiber tank and blasting into the turbos at up to 290 psi. And with the catalytic converters reaching operating temperature in no time, this twin-turbo Koenigsegg V8 will comply with future global emission standards planned for as far away as 2026.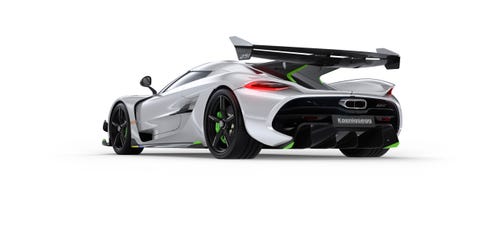 More air demands more fuel, so the engine now sports three fuel injectors per cylinder. The third injector lives in the intake plenum, squirting in fuel directly above the intake runner for each cylinder. The extra blip of fuel also cools the cylinder, making for a cleaner combustion and less strain on the engine at the top of the power range.
Koenigsegg also threw in individual in-cylinder pressure sensors, a first for road cars. This allows the in-house-designed Engine Management System to monitor and control each cylinder at maximum efficiency. All this results in 1106 pound feet of torque to accompany your 1280 pump-gas horses.
If you thought the Regera's direct-drive system was nuts, buckle up for what Koenigsegg calls the Light Speed Gearbox.
The LST has nine forward gears and seven wet multi-disc clutches. Yet at 198 lbs—complete with all fluids, clutches, oil pumps, and the starter motor and flywheel—it weighs significantly less than the average dual-clutch transmission. It's also half as long as Koenigsegg's previous seven-speed, with a two-stage shifting method that allows for nearly instant gear changes. And yes, the Jesko even has a stick, sort of.
Koenigsegg says they developed this transmission to have ultimate power on demand, and thanks to the simultaneous engaging and disengaging of those clutches, it offers "near light-speed" gear changes both up and down. That's because, unlike a one-gear-at-a-time conventional DCT which tries to predict your desires by pre-selecting the next gear, the LST can jump to any forward gear immediately, even as far as five gears away.
With the LST's seven clutches and the V-8's anti-lag system, Koenigsegg says there's absolutely no drop in torque as you accelerate through the gears.
By: Mate Petrany, March 5, 2019
For more cars, visit: https://www.roadandtrack.com/car-shows/geneva-auto-show/a26617787/koenigsegg-jesko-geneva-motor-show-photos-info-specs/
Source: https://www.roadandtrack.com/