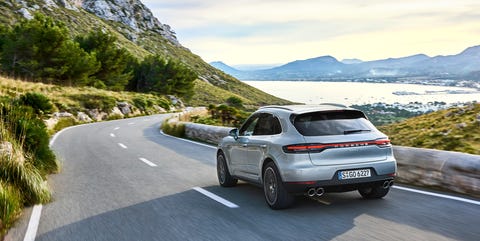 Porsche announced today that the second generation of its phenomenal Macan crossover will go fully electric. Apparently the decision was made this past July, with part of the deciding factor being the desire to invest in electrified vehicles at the Leipzig, Germany, plant where the Macan is currently built. Porsche has said that it wants 50 percent of its new cars to have "an electric drive system" by 2025, and an electric Macan will be a big factor in achieving that. The Leipzig plant currently produces the Macan and the Panamera, with more than 90,000 vehicles rolling off the line every year.
The next Macan will be based on the Premium Platform Electric (PPE) platform that is being developed in conjunction with Audi, which will use the platform to underpin its own all-electric models; PPE will underpin the next-generation Taycan sedan. (The Taycan that is debuting later this year is on a different platform, code-named J1, that will be shared with the Audi e-tron GT.) The Macan will have the same 800-volt tech as the next Taycan and will probably share its electric motors and battery packs, too.
We know that the upcoming, first-gen Taycan—or at least one version of it—will have two electric motors producing 600 horsepower, a range of more than 300 miles, and a zero-to-60-mph time under 3.5 seconds. If those specs carry through to the following generation, then the top-end Macan EV should match or get close to those numbers, too. But expect multiple lower-end variants to have less power and a shorter range than the "Turbo" equivalent. The current Macan does start at less than $52,000, after all, and Porsche will likely want to keep the Macan's entry-level status intact.
This news is bittersweet. The prospect of a compact, fully electric Porsche crossover is pretty exciting to us, especially if it drives anywhere as well as the current 10Best-winning model does. But part of the existing Macan's appeal is its varied engine lineup. The Macan is available with a turbocharged inline-four and multiple different turbocharged and twin-turbocharged V-6s in different states of tune.
Porsche says the next Macan will enter production at the start of the next decade, most likely in 2021. It will follow the first Taycan sedan, which will make its debut by the end of this year, and the Taycan Cross Turismo and Sport Turismo wagon variants, which Porsche says will come soon after the standard car. The second-gen, PPE-based Taycan will likely arrive midway through the decade at the earliest.
By: Daniel Golson, February 26, 2019