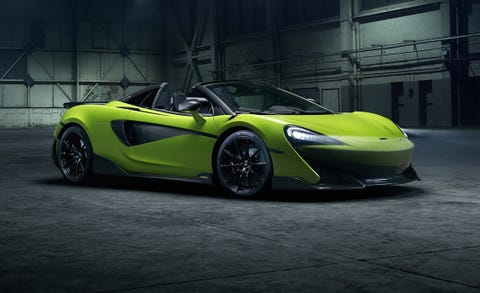 The idea of an ultra-lightweight, track-focused roadster might seem odd, given that most drivers like the reassurance of a fixed roof on the track. But it is a niche area that supercar makers have become adept at mining, with cars like the Ferrari 458 Speciale Aperta, Lamborghini Huracán Performante Spyder, and, of course, the McLaren 675LT Spider.
The last of which, indirectly, brings us here; the company's success at selling out its limited run of 500 examples back in 2015 made it almost certain that McLaren would also produce a roadster version of the new 600LT. And here it is; these are the first official pictures of the new droptop ahead of sales beginning later this year. While it is predictably heavier than the featherweight 600LT coupe, it will still be the lightest car in its class by a considerable margin.
McLaren Automotive's use of a hugely strong carbon-fiber tub gives it an inbuilt advantage when it comes to engineering its open-top models. All of the car's structural strength comes from the "bathtub" itself; the loss of a fixed roof has no effect on the car's torsional rigidity. The only weight penalty is the extra mass brought by the folding hard top, which is shared with the existing 570S, and the fact that this heavier mechanism sits higher up in the structure versus in the fixed-roof 600LT.
Going by McLaren's numbers, the 600LT Spider weighs just 110 pounds more than the coupe and 220 less than the 570S Spider, with a dry weight quoted at 2859 pounds in the car's lightest possible configuration. Getting to that point would mean ordering the car with the extra-cost MSO Clubsport Pack. For a sizable $22,090 upcharge, that package features the ultralight carbon-fiber race seats from the McLaren Senna, as well as various carbon trim and titanium wheel bolts. As with the coupe, it would also mean passing on the optional zero-cost climate control and infotainment systems, a sacrifice that only a small number of buyers are likely to make.
By: Mike Duff, January 16, 2019
For more cars, visit: https://www.caranddriver.com/news/a25910169/2019-mclaren-600lt-spider-photos-info/
Source: https://www.caranddriver.com/